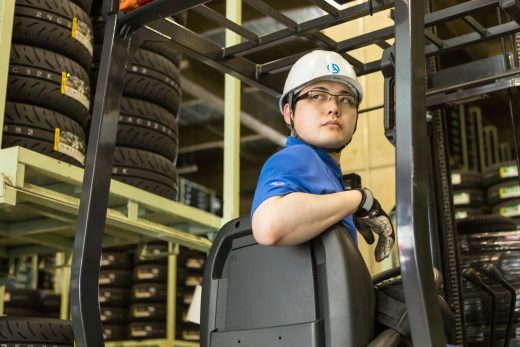 We are implementing various initiatives to ensure safety for society and our customers.
"KPI: Key Performance Index" of Safety
Our biggest goal is "an accident rate of 0.03 or less per 100,000 km".

By quantifying safety concretely, all employees are synchronized with each other in terms of safety goals.

The circumference of the Earth is 40,000 km.

Let's do the math! 0.03 or less per 100,000 km is equivalent to going around the earth about 83 times and limiting the number of accidents to less than one.

It's difficult to achieve, but it's not an unreasonable goal for us.
In-house contest
An in-house contest is held once a year for the purpose of improving safety, service, and productivity, and employees nationwide.

Even if the employees are of different departments, they are considered opponents against each other.

They will see each other's technique, incorporate the good points, and takes the lead to better Ryobi performance quality.

In addition, partner companies have also participated in the competition, and we have obtained a synergistic effect on safety and quality.
Labor-Management Safety Conference
In addition to the safety precautions taken by the company, there are safety activities that the labor union takes the lead in.

Once a year, we report on our results and proclaim our goals for the next year at the convention, which in turn builds a strong labor-management cooperation system.

In addition, we are increasing employee engagement by quantifying the results of each branch each year and to celebrate their excellent performance.