Our goal is to be a world-leading logistics company that is recognized both in Japan and overseas for its highest level of safety and service.
In Japan, we will expand the distribution center business mainly in the Tokyo metropolitan area. We plan to develop automation and AI for vehicles and warehouses, and utilize collaboration with Ryobi Group companies and also with other consumers (B2C).
Furthermore, we will share our business knowledge to improve Japan's and other ASEAN member countries in food handling and managing storage areas.
In response to the changes in every person's eating habits especially in the ASEAN region. There is an increase in the demand for a safe storage system, we are proceeding with business development centered on cold chains (freezing, refrigerating, constant temperature) and high-spec warehouses with high security.
Our goal is to be a No. 1 high-quality cold chain logistics company in ASEAN.
Challenges the IT of warehouses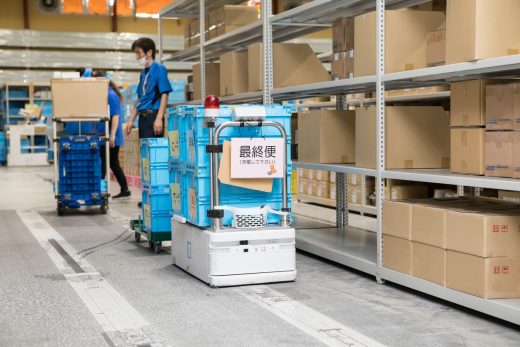 In Japan, as the working population declines and the needs for workers become diversified, there is an urgency for work style reforms.
In the future, we have to review IT-related work styles. We can have this thru innovation and investment, and thus promoting diversification of the working environment.
With the launching of "Logistics 4.0", which connects all things via the Internet, the importance of the logistics business. It will re-assess the logistics business which has been neglected in the past years due to cost reduction.
Ryobi Transport Company wants to ensure the satisfaction of its employees by enhancing its own process and securing the position as the leading logistics company for the next generation.
By combining the introduction of an unmanned forklift and an automatic PICK system, we are taking on the challenge of improving work efficiency and saving manpower not only for daytime but for nighttime work as well.
ASEAN Cold Chain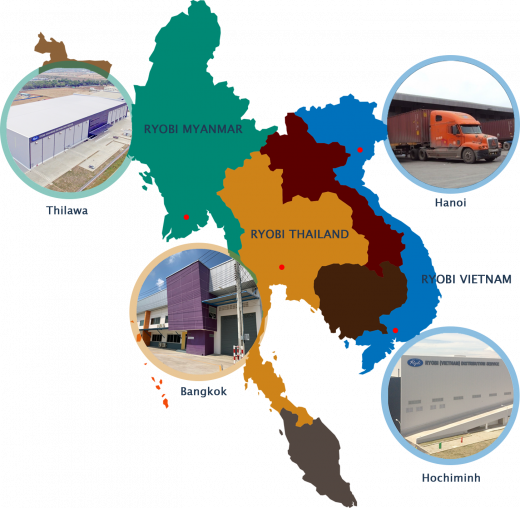 The Ryobi Group is developing cold logistics services in Vietnam, Myanmar in order to establish a cold chain of one-stop services for storage, transportation, and customs clearance arrangements in ASEAN.
Currently, we have five overseas subsidiaries in Vietnam and Myanmar who are working on this. In the future, we will further build a cold chain logistics in ASEAN, anticipate customer needs, and gradually expand our service networks to contribute to the Asian economic development.