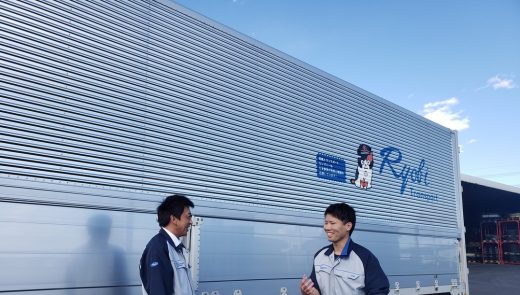 We have introduced our own systems and equipments to thoroughly manage safety, quality, and health.
In Ryobi Transport Company we value the warmth of people in every aspect of our business activities.
Encouragement Patrol
The members of the CS team (* 1) will play a vital role in encouraging the crew members in operation and the site during cargo handling work.

Aside from saying, "Thank you for your hard work!", We also serve cold drinks in the summer and warm drinks in the winter, contributing to a sense of unity within the community and promote open communication.

For the site and the office to work together to raise safety awareness, we are engaging in ways such as checking the situation at the site and exchanging information on accidents and preventive measures for occupational accidents. This has been well received by customers.

These are unique to Ryobi Transport Company, which surprise other people.

* 1 CS team members: to improve customer satisfaction and work environment.

CS = Customer Satisfaction
Health Management
Daily health management is important for safe and professional driving.

At Ryobi Transport Company, to ensure safety to society and customers, we measure body temperature and blood pressure during daily roll calls and have a system in place to determine if our crew members have a poor physical condition.

We also have an inspection system for sleep apnea syndrome and illegal drugs. We strive to ensure the health and safety of our employees and comply with state, national and international laws.

Ryobi Transport Company's idea of ​​"employee happiness" is to be healthy and to work harmoniously every day.
Alcohol Level Check
Ryobi Transport Company will completely eliminate alcohol drunk driving.
In addition to checking alcohol consumption when going to and from work, roll callers and crew members use a mobile alcohol checker to check alcohol level during long-distance operations.
Mutual Audit (check for legal compliance)
Every month, managers of each workplace go to branches outside their jurisdiction to check whether there are any deficiencies in forms and labor management to confirm that they are operating under the law.
We are building a system that allows us to share the checked contents at meetings, incorporate the good points, and follow up on those deficiencies until improvements are made.
We will provide high-quality services to our customers by rigorously auditing our colleague's activities for further improvement.
Zero Accident Award
"No accident = safety plus high quality" is a very easy-to-understand formula.

Ryobi Transport Company holds employee awards every year to express its gratitude for safe driving and safe working habits.

We evaluate their achievements and give awards to employees according to the number of years without accidents.

The results of our high awareness on daily safety activities are reflected in our products and services, and this is the reason why our customers choose us.

Great achievement!
45 years of accident-free employee!