We provide services from local deliveries with transshipment installation using small vehicles to medium and long-distance transportation service with large vehicles, and we also provide transportation of hazardous products with special vehicles all over the country.
We offer warehouse services (cross-dock, inventory warehouse, distribution processing, distribution center, etc.) and IT services (labor-saving by AI, robot, AGV, efficiency improvement by the development of WMS and TMS, etc.). We strongly support our customers' last-one-mile and propose optimal logistics services. We can improve logistics efficiency by utilizing the latest technology in cooperation with the system ICT department.
Medium-distance Transportation
We carry out our transportation services using a nationwide network that meets all of our customer's needs.
We handle a wide range of items such as beverages, food-related products, automobile parts, office supplies, store fixtures, and liquid fuels.
In addition to supplying reliable transportation services for procurement logistics (* 1) and production logistics (* 2) using a wide variety of vehicles positioned in 10 locations nationwide, we also owned distribution warehouses that are located in the Kanto, Chugoku region, and Kyushu, ergo we are able to provide storage and delivery upon immediate request.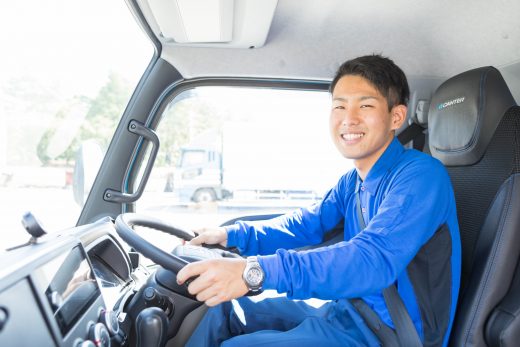 ■Delivery Area Record
・Tohoku region to Kyushu region
■Owned vehicles
・ 2 to 3 MT trucks
・ 4 MT trucks
・Heavy duty trucks (10MT-13MT)
・Trailers
※Other type of vehicles could be arranged upon request in collaboration with our business partners.
■Vehicle Quality
・Airline Rail Equiptment(*3)
・Latest Digital Tachograph (Operation Records)
・Dashboard Camera, car driving recorder
・Reversing Camera, car driving recorder

■Service Specialty
・One Way Operation
・Round Trip Operation
・Inter-warehouse Transportation
・Transportation from production factory to warehouses
・Delivery from distribution center directly to customers
 In addition, we handle another type of operation upon clients' request.
■Others
・The nap room is set up at the distribution bases to improve the relaxed environment for our drivers.
* 1 Procurement logistics: Delivering necessary materials such as raw materials or parts, and materials for factories and manufacturers.
* 2 Production logistics: Managing, packing, shipping, and transporting products produced at the factory.
* 3 Airline rail: A device that fixes luggage with a belt (this device fixes luggage more securely than usual).
Short-distance transportation
(including store installation)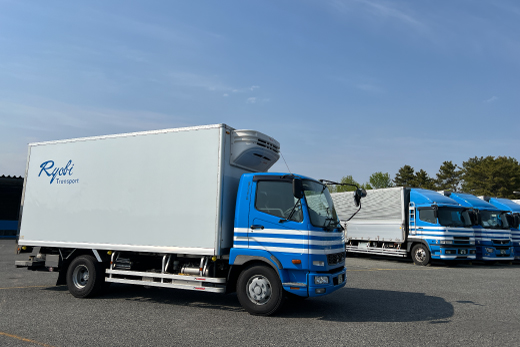 We also carry out short-distance transportation upon request.
With safety and compliance as our top priorities, we operate in our daily area, which is approximately 150 km one way.
We handle a wide variety of products such as steel furniture, store fixtures, commercial refrigerators, beverage / food-related products, refrigeration / freezing-related products, and industrial products.
Furthermore, large steel furniture, store furniture, and commercial refrigerators or any products that can be transported by two workers at the request of the customer, plus we also handle the loading, unloading, and removal of products.
Moreover, we introduced and are the first to utilize electric vehicles in transportation in the western Japan area.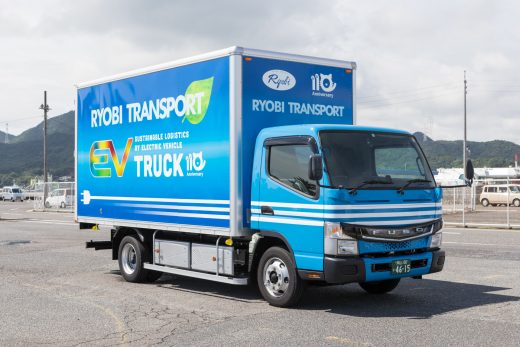 ■Delivery Area
・Most of the operations are in 150 KM area.
■Owned Vehicles
・Small trucks
・2 MT trucks
・4 MT trucks
・Heavy, 10-13MT, trucks
・Trailers
・Flat Body type trucks
・Wing body, box type, trucks
・Tail lifter gate trucks
・ Trucks with the crane
※Other vehicle types could be arranged upon request in collaboration with our partners.
■Service Specialty
Team driver operation is available.
Energy transportation (gas / gasoline)
Energy transportation (gas)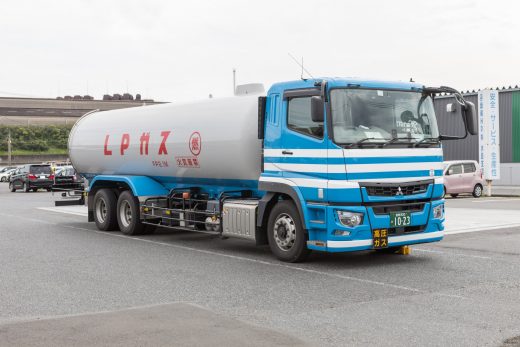 High-pressure gas transportation is an operation supporting social infrastructure that operates round the clock, 24/7 for 365 days a year to transport various types of gas such as liquefied gas for industrial and medical use, and LP gas for home use.
We arrange lorry of nitrogen, oxygen, carbon dioxide, argon, and LP gas, and cylinder transportation by special vehicles.
■Delivery Areas
・Kanto / Hokuriku / Chukyo / Kinki / Chugoku / Kyushu area
Energy Transportation (Oil)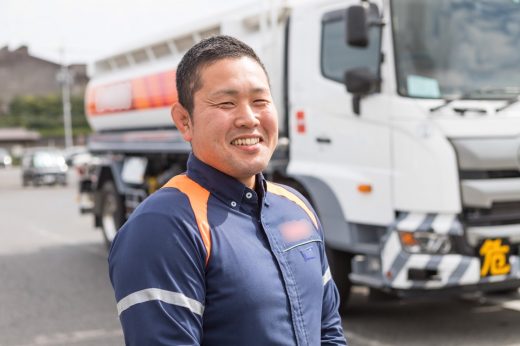 Due to oil transportation being dangerous, we have contracts with oil wholesaler trading companies and Ryobi Enesys Co., Ltd.(*) with tie-up delivery that deliver gasoline, diesel, kerosene, and heavy fuel oil, which are essential for daily life, to stands in the Chugoku area, major manufacturers, logistics companies and ferry companies for 24/7.
■Delivery Area
・Chugoku Area
* Ryobi Enesys Co., Ltd. : A company that is part of the Ryobi Group which operates gas stations. In addition to providing a stable supply of energy such as gasoline and gas. We also provide total support for cars such as vehicle inspections, repairs and insurance. As well as home remodeling, and provide services that are closely related to daily life.
Specialized Vehicles
We introduce specialized vehicles that match the characteristics of each region on a large scale to provide safe, secure and reliability to ensure the smooth flow of logistics.
■Owned Vehicles
・Concrete Mixer Lorries
・Container Trailers
・Cement Vehicles
■Transportation Records
・Construction ready-mixed concrete transportation by concrete mixer trucks (Hiroshima branch)
・Steel transportation by heavy trailers (Shiga and Yamaguchi branch)
・Ready-mixed concrete manufacturing and procurement using bulk cement trucks (Hiroshima and Kyushu branch)
Concrete Mixer Lorry
Container Trailer
Cement Vehicle
Chilled / frozen transportation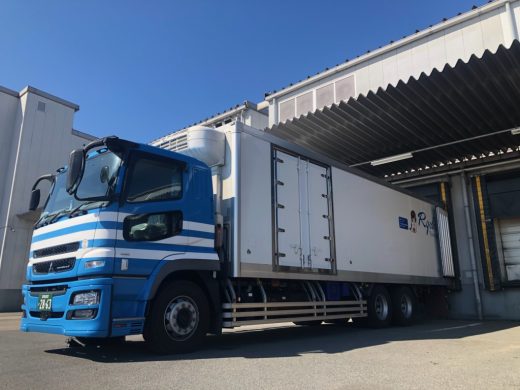 In order to ensure the safety and security of products like foods, we have built a nationwide joint delivery network centered on the entire Kanto region and provide transportation services for chilled and frozen foods.
We have a freezer, refrigerator and air-conditioned temperature warehouses in Isesaki City, Gunma Prefecture, which is easily accessible from the Tokyo metropolitan area, so we can deliver products that meet the needs of our customers.
We guarantee our customers high-quality food safety and security.
■Delivery Area
・Kanto Area
■Owned Vehicles
・ 1 MT truck
・ 2 MT trucks
・ 4 MT trucks
・ 7 MT trucks
・ 10 MT trucks etc.
※Other vehicle types could be arranged upon request in collaboration with our partners.
■Vehicle Quality
・Since the vehicle management system is installed in all vehicles, the location of our vehicles is transmitted in real-time.
・We respond to inquiries regarding the delivery time to ensure the operation is running smoothly.
・Equipped with a thermometer, we also thoroughly control the temperature of the products we carry during transportation.
■Service Specialty
・ We provide delivery services for one box.
・We also accept charter transportation within the Kanto area.
■Information
Ryobi Holdings Co., Ltd. Ryobi Transport Company Gunma Branch Cold Storage Division
Address: 2-1223-1 Ichiba-Cho, Isesaki City, Gunma Prefecture 379-2211
Phone: 0270-63-6668 FAX: 0270-63-6665
Opening Hours: 9:00 a.m. – 5:00 p.m. (excluding Saturdays, Sundays, and holidays)
mail: chilled@ryobi-holdings.jp
Industrial waste transportation
Ryobi Transport Company supports the goal to achieve zero emissions for our customers. We also provide industrial income transportation services centered on dissolution treatment that does not require landfill treatment in 35 prefectures.
We consider industrial wastes discharged from companies and medical institutions to be products that need to be taken care of following the current laws and regulations, and as such we thoroughly manage operations with intensive training of our employees to transport those wastes responsibly.
■Our efforts for integrated logistics services
We, Ryobi Transport Company aims to build and maintain not only the supply chain but also the life cycle of the said supply chain.
Toward the formation of a recycling-oriented society, we pursue safer treatment without added waste, thus aim to "detoxify", "recycle", and "effectively utilize" all waste.
 ■Owned vehicles
・2 MT trucks
・4 MT trucks
・4 MT flat body type trucks
・4 MT tailgate lifter trucks
・Wing body, box type, truck
・Flat body type heavy trucks
・Large trucks with crane
・Large refrigerated trucks
■Delivery Track Record
Industrial Wastes: Embers, Sludge, Oil Waste, Acidic Waste, Alkaline Waste, Plastic Waste, Scrap Metal, Glass, Concrete, Porcelain, Papers, Wood and, Fibers(including natural fiber)
Controlled Industrial Wastes: Easily Flammable Oil, Infectious Waste, Asbestos, etc.
■Prefectures and cites open for transportation
Tohoku region: Miyagi, Akita and Fukushima prefecture
Kanto region: Ibaraki, Tochigi, Gunma, Saitama, Chiba, Tokyo and Kanagawa prefecture
Chubu region: Niigata, Ishikawa, Fukui, Gifu, Shizuoka and Aichi prefecture
Kinki region: Mie, Shiga, Kyoto, Osaka, Hyogo and Wakayama prefecture
Chugoku region: Tottori, Shimane, Okayama, Hiroshima and Yamaguchi prefecture
Shikoku region: Kagawa and Ehime prefecture
Kyushu region: Fukuoka, Saga, Nagasaki, Kumamoto, Oita,and Kagoshima prefecture
■Information
Ryobi Holdings Co., Ltd. Ryobi Transport Company Yamaguchi Branch
Address: 3863 Higashisue, Ube-shi, Yamaguchi Prefecture 759-0206 Japan 759-0206
Phone: 0836-41-3143 FAX: 0836-41-3105
Hours: 8: 30 a.m. – 5: 30 p.m. (excluding Saturdays, Sundays, and holidays)
* 1 Zero emissions: The idea of ​​ultimately reducing waste to zero by recycling