We propose to our customers that we optimize a specific field of supply chain management in accordance with the needs of our customers.
Logistics Re-organization examples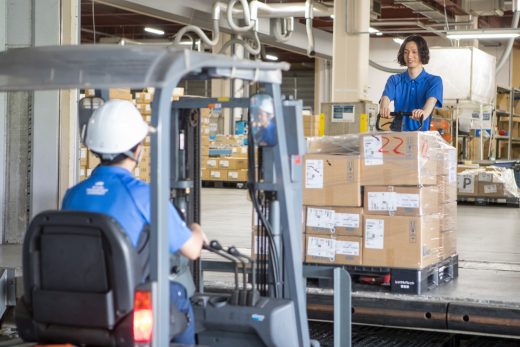 We have introduced a system linked to the customer's system that enables centralized management of inventory and inventory allocation starting from factory shipment with the help of the Ryobi Group ICT department.
As for cargo handling, we ensure delivery control by 24-hour operation in accordance with the order closing time, and for transportation services, we have fully equipped with cargo tracking devices and also our vehicles are suited for mass transportation along with route shipping for small transportation. Thus optimizing the lead time and cost-efficiency.
E-Commerce Transportation (delivery service / mixed cargo and passenger)

E-Commerce transportation is delivery services of products from mail-order and online shopping companies directly to customers.
We provide shipments and deliveries with efficient transportation services using our own delivery networks and public transportation.
■Case 1: Home Delivery Service

Currently, we operate the Rakuten EXPRESS in Okayama Hayashima Sales Office, collaborating with Rakuten, Inc.

Rakuten EXPRESS is a service that specializes in delivering products to the customer as quickly as possible using Rakuten's own delivery network.
Rakuten EXPRESS delivers some of the packages ordered from various sites such as Rakuten24, Rakuten Books, Rakuten Ichiba, and Rakuten Fashion to customers.

Rakuten, which has a "one-delivery" vision, is working to strengthen its own logistics functions, and as of February 2020, Rakuten EXPRESS covers a population of approximately 61.5% nationwide.

Rakuten EXPRESS offers unique features such as timed delivery from 22:00 to 24:00 at midnight, receiving redelivery order until 19:59 on the day, and quality of services and logistics in line with the "Rakuten brand".

We respect and adapt the request from the customer as our partner. Also, deliver our value based on those thoughts.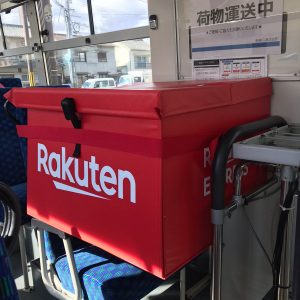 ■ Case 2: cargo and passenger (* 1)
In collaboration with Ryobi Group's Tobi Bus Co., Ltd. (* 2), we have built efforts to improve E-Commerce Logistics by sharing the existing bus route networks and utilizing them as a means of transportation in places where we maximize our transportation networks.
Products are placed in a secured box picked-up by Saidaiij Bus Center and off-loaded at Tobi Bus and delivered by Setouchi Ushimado Sales Office to customers.
And they are delivered from the Setouchi Ushimado Sales Office to each delivery destination (customer) by a driver of Tobi Bus and Taxi, using Rakuten EXPRESS's exclusive delivery vehicle.
(* 1) Carrying non-passenger luggage together with passengers.
(* 2) A company that develops bus routes and taxi services in Ushimado, Setouchi City
■the Next Deployment
By sharing existing services, we would like to provide reliable logistics services for the future of E-Commerce Logistics
Rakuten EXPRESS Launches Local Bus Delivery Service (external link displays in a separate page)